Table of contents
Banks and Institutions
Crypto ecosystem
Technology
Some figures
Banks and Institutions
New setbacks for the Binance platform
UK payment provider ClearJunction announces the end of its collaboration with Chinese cryptocurrency exchange Binance. This is an important announcement in the sense that ClearJunction is the equivalent of the SEPA instant transfer in the UK.

This follows the recent announcement by the Financial Conduct Authority that Binance is not allowed to undertake any regulatory activity in the UK.

This is yet another negative development for the platform, which is currently under fire from regulators and has also sent an email to its customers in the European area announcing that SEPA euro credit transfers will be suspended "temporarily and indefinitely".

Source : ClearJunction
Grayscale partners with banking giant BNY Mellon to convert its fund into an ETF
A step closer for manager Grayscale in its quest to convert its Bitcoin fund (the Grayscale Bitcoin Trust) into an ETF recognised by the US authorities.

The company, which manages more than $30 billion in digital assets, has just announced that it will outsource the management and accounting functions of the Grayscale Bitcoin Trust to BNY Mellon Bank in October. Functions currently performed in-house, according to CEO Michael Sonnenshein.

This new agreement sets the stage for converting the GBTC into a Bitcoin ETF. A Bitcoin ETF in the US is expected to bring a new level of confidence and acceptance of Bitcoin to institutional investors.

Source : Theblockcrypto
Hedge funds see the market downturn as an investment opportunity.
While the digital asset market has remained lacklustre and volatile for weeks, institutional investors are increasing their exposure to the market, whether through direct exposure or by backing companies developing products and services in the digital asset sector.

Last June, a survey of 100 hedge fund CFOs from around the world found that hedge fund exposure to cryptoassets is expected to increase over the next five years.

In addition, regulation of cryptos appears to be taking shape in many jurisdictions.

Source : CoinTelegraph
A new EU authority to fight money laundering in crypto?
The European Commission intends to create a new agency for administrative oversight of anti-money laundering and transparency of crypto transactions. According to European Commission documents seen by Reuters, the lack of cooperation between EU member states in the fight against money laundering justifies the creation of the Anti-Money Laundering Authority (AMLA). One of the Commission's proposals is to oblige cryptoasset service providers to collect and make accessible data on the originators and beneficiaries of transfers of these assets.

Source : Journalducoin
Crypto ecosystem
Long-term investors do not sell their bitcoins.
According to Glassnode, investors who have owned Bitcoin for 2-5 years continue to hold on and are not selling their assets despite the current market conditions. They also hold almost 23% of the Bitcoins in circulation.

Source : Glassnode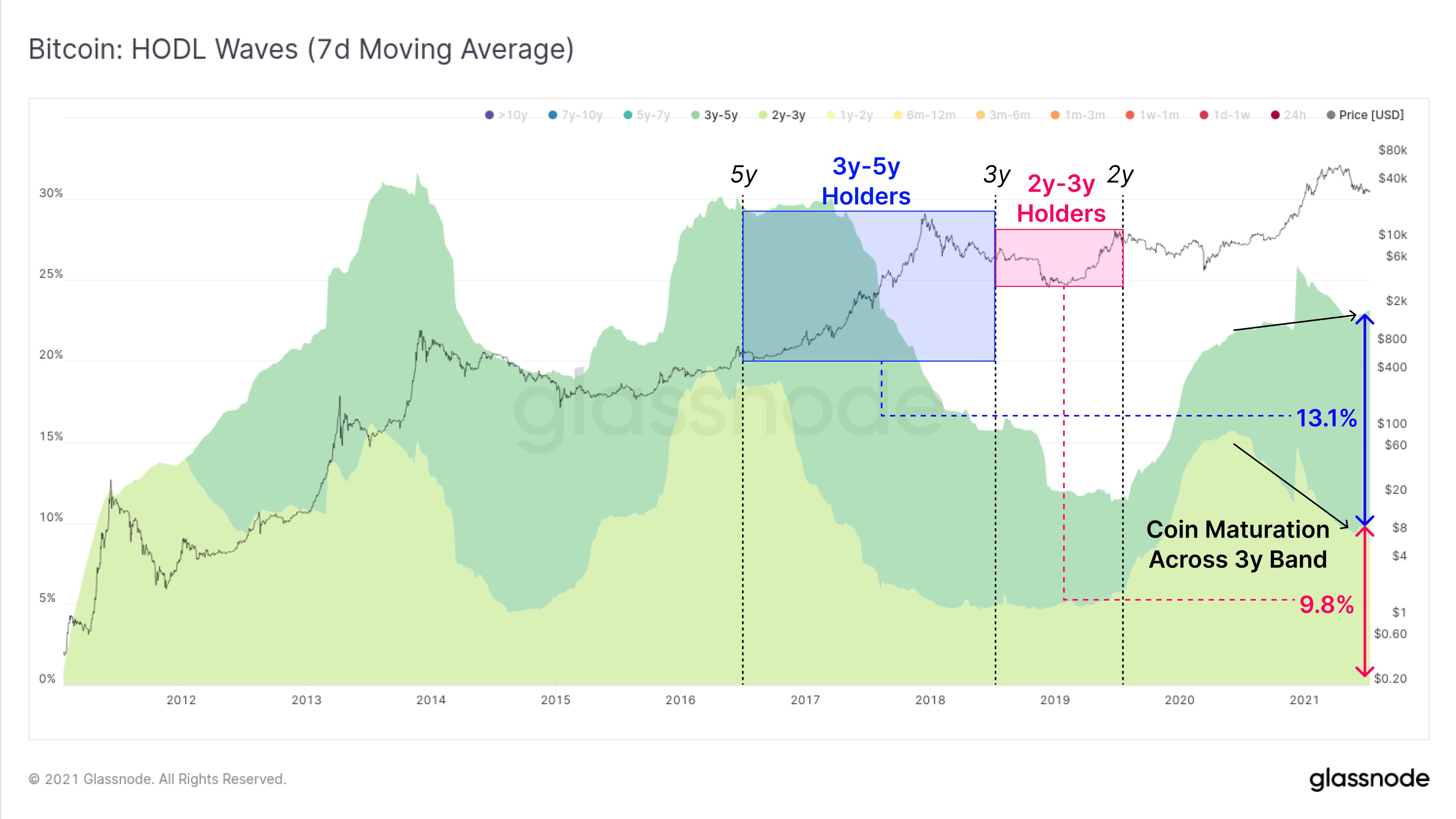 Cardano joins Grayscale's fund
Cardano's (ADA) share price continues to perform well following the announcement of its addition to Grayscale's portfolio. With the Alonzo hardfork coming up, investors are wondering whether the impact will be positive or not for the project.

Source : Ambcrypto
Technology
Nifty's launches social media platform focused on NFTs
With $10 million in seed funding, the Miami-based crypto company has launched what it claims is the first ever NFT-focused social media platform.

Nifty's first partnership will be with Warner Bros and will involve a collection of limited edition non-fungible tokens (NFTs) featuring characters from the upcoming animated film Space Jam: A New Legacy. The film features basketball champion LeBron James and the Looney Tunes.

Source : Theblockcrypto
DeFi platform allows NFTs as collateral for borrowing
ETNA Network has launched a lending and borrowing network that allows non-fungible tokens (NFTs) to be used as collateral for borrowing. It announced that it is developing a suite of products designed to work in an interconnected way – creating a tangible use case for NFTs.

ETNA Network claims that DeBank is the first lending platform to support the use of NFTs as collateral – and that a range of interest rates is offered depending on the type of asset deposited by the borrower.

Source : CoinTelegraph
Some figures
Funding for crypto and blockchain companies is soaring in the second quarter of 2021.
A total of 497 financing operations took place during the period.

Excluding BlockOne's $9.7 billion capital injection into the "Bullish" crypto exchange, the second quarter saw $6.2 billion of private funding directed towards the digital asset industry. A 90% increase on the previous quarter.

Source : Theblockcrypto
45 000.
That's about the number of GBTCs (shares in the Grayscale fund for exposure to the Bitcoin price) that were purchased earlier this year and will be unlocked and available for resale during this July. Analysts are wondering whether this event will cause additional selling pressure on the Bitcoin price.

Source : Bybt